During the Hussite Wars the Order of St. John of Jerusalem was forced to move the location of its Grand Priory in the Kingdom of Bohemia to its castle in the town of Strakonice. Half of the Castle and a major portion of the adjacent lands were originally given to the Order of St. John in 1243 by the nobleman Bavor or Bavarian I.
According to legend, Bavor I was in the Holy Land in 1190 and promised that he would build a convent for the Order when (if?) he returned home. A historical document dating from 1225 evidences this. Confirmation is provided in another document that Bavor's wife, Bolemila, gave some villages to the Order. In 1243 they were given and Church and manor house in Strakonice, along with several additional villages. The Order continued to expand its influence in the region and by the 14th century had built a hospital in school in Strakonice. The knights shared the castle with the Bavarian family until 1402 until declining family fortunes forced the sale of the rest of the castle and the town to the Order.
The head of the Grand Priory of Bohemia at that time was Jindrich of Hradec who consequently became the first ecclesiastical owner of the castle. During the plundering of their main residence in Prague during the Hussite wars the Grand Priory, including it's archives and insignia, was moved to Strakonice. Jindrich commanded the first major victory over the Hussites near Strakonice on March 25, 1420. He reportedly sustained an injury to his big toe in the battle which was serious enough that he died from the wound later in the year.
For the next 500 years the Order played an important role in the region. Unfortunately the effects of the communist revolution in Russia were being felt throughout Europe. Agrarian reforms and the Confiscation Act of 1919 impacted even the knights and they were forced to sell their estate with its mill, brick factory and brewery in 1925. Later during World War II they had to leave their buildings in the premises of the castle as well, including St. Procopius Church and the dean's residence.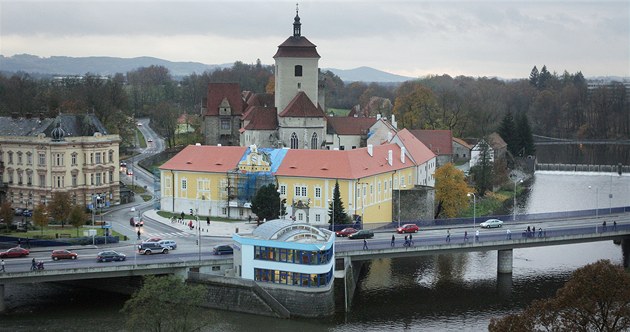 However the fall of communism in the Czech Republic led the Order to negotiate with the local diocese about the restoration of there former properties. In 2008 an agreement was reached and once again the Grand Priory of Bohemia became owner of its historical properties. The picture at left shows the former Grand Prior's Residence in the foreground painted bright yellow.